PLAYSPACE groups combine an adult support group and an infant/child playgroup. They are intended to be an antidote to the pressures that limit caregiving vitality and the development of intellectual and emotional capacity in young children. They fuel parents and enhance their emotional well-being, while providing a stimulating experience for infants/children. They have been found to be helpful for parents seeking support through transitions and for those seeking more long term sources of support and personal enlightenment. They have been found to be beneficial for anxiety and depression in women with infants and young children.

PLAYSPACE groups are for any mom with her infant or her young child. Staff have expertise with; at home and part time working moms, adoptive parents, mom combining career and family, divorce and single parenting, postnatal depression and challenging children.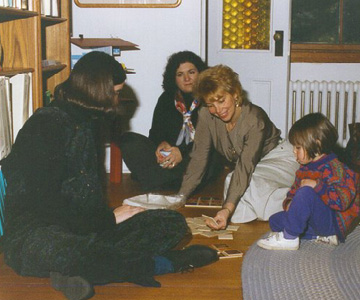 PLAYSPACE meets in a two-story renovated carriage house convenient to public transportation, Newton Centre and Newton Highland shops and the Crystal Lake Recreational area.
PLAYSPACE groups are comprised of 4-6 parents and young children. Groups meet for a 1 1/2 hour period.

PLAYSPACE groups begin with a period of spontaneous play and interaction involving children, parents and staff. Following this there is a refreshment break and the adult support group time, when children are engaged in activities with a staff associate.
PLAYSPACE groups offer:

• psychosocial, cognitive, fine and gross motor developmental activities for infants/children

• permanent play features such as an infant area, dress up and imaginative play areas, indoor climber and sand table, block corner, children's library and outdoor play yard and equipment

• a changing schedule of play activities, for example: arts and crafts, games, puzzles and computer with educational software

• an ongoing community for adults to connect with others who share similar challenges and stresses

• an empathie forum for self-expression, parenting and interpersonal issues

• child development resources for parents